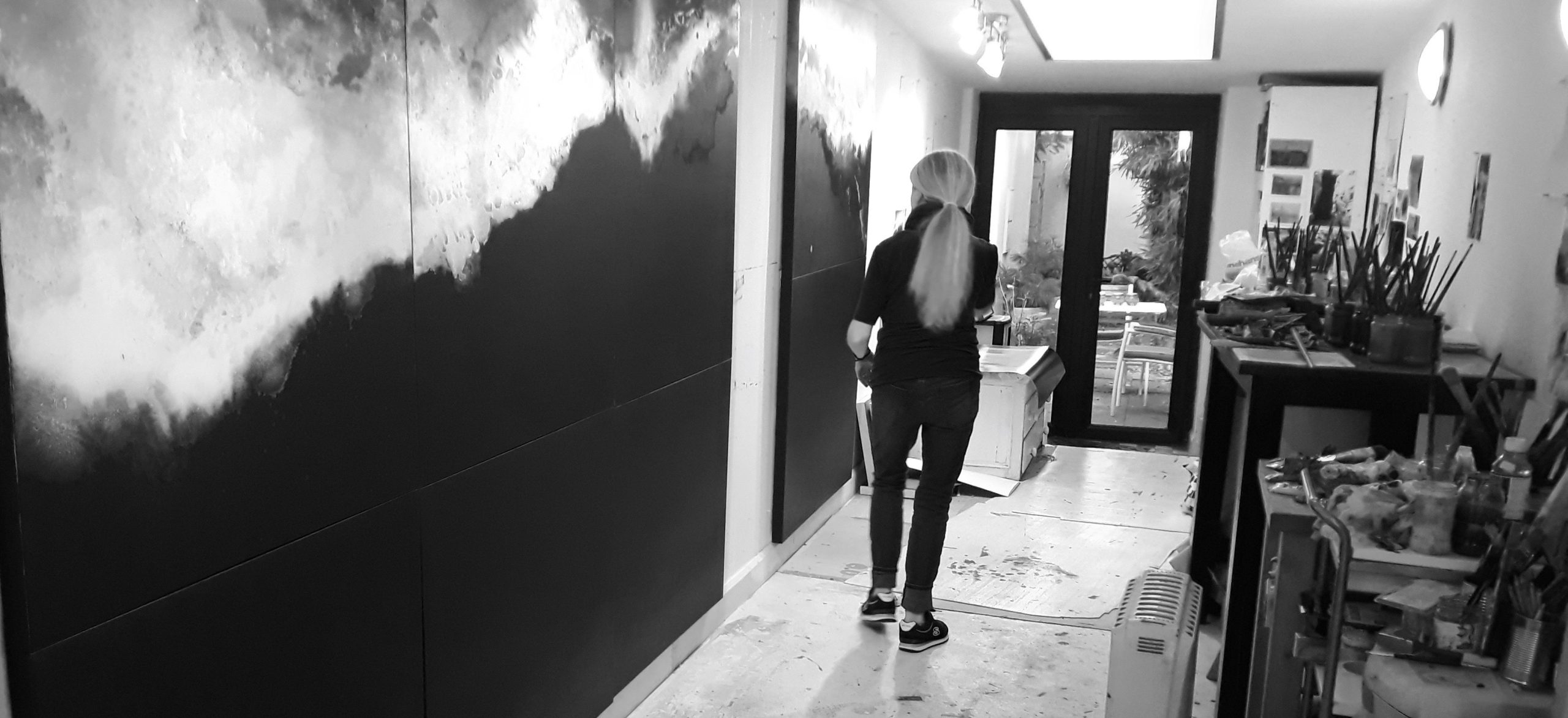 Gwen O'Dowd, a Dublin native, graduated from the National College of Art and Design in 1980.
Her first solo exhibition was held at the Project Arts Centre in 1984, which was met with critical acclaim. The subject of this show was aspects of urban decay, inspired by such from her studio in Dublin's north inner city. Following an invitation to participate in an exhibition in support of Greenpeace, based on the Irish Sea, her work developed more universal concerns.
O'Dowd would use demure labels of Abstract or Figurative to describe her work. They are Intellectual / Emotional and Observed responses to nature and the environment.
In 2012, for the Across Three Decades exhibition at the Hillsboro Fine Art Gallery, Dublin, an article by Dr. Medb Ruane encapsulates the essence of her working process:
"O'Dowd's practice developed while debates about nature and culture were changing critical appreciations of the genre – and the artist's place there. Meanwhile, people became aware of global warming and the vital issue of sustainability, opposed to mindless, greedy looting of the natural world. Over time O'Dowd continued to focus on intensities that were once part of that nature / culture debate, while opening up wider visual explorations of change and decay. This opening up happens not in a Romantic sense but in a decidedly non-Romantic, non mystical pursuit whose elements move the abstract-concrete or culture-nature dialect on.
The paintings come to function like interventions in the world of observation. So, rather than exploring the tension between movement and stagnation, life and death, or humanity's impact on the natural world, the work proposes different, parallel orientations of nature that happen to synchronise through the human eye."
"The Curiosity Series is a podcast series hosted by writer, comedian and podcaster Maeve Higgins, commissioned as part of the Arts Council's 70th anniversary celebrations … In episode four, composer Jane O'Leary and painter Gwen O'Dowd, both members of Aosdána, join Maeve to delve deeper into the inspirations and motivations behind their art…" Click image above to hear the episode. Source
---
Gwen O'Dowd is represented by Hillsboro Fine Art, Dublin